"I felt like I was slammed into a plan that really doesn't meet my needs. I am not even sure if that insurance agent lived in the United States. I need someone I can trust. Not really sure if my doctors are in network or if my medications are covered."
If the above statement sounds familiar, you need to contact
Navigating the complex world of Medicare insurance can be overwhelming. With a plethora of information from various sources, including TV ads, YouTube celebrities, and local agents, it's challenging to discern what's best for your unique needs. That's where the expertise of a local insurance agent becomes invaluable, particularly when it's someone as reputable as Brian Penner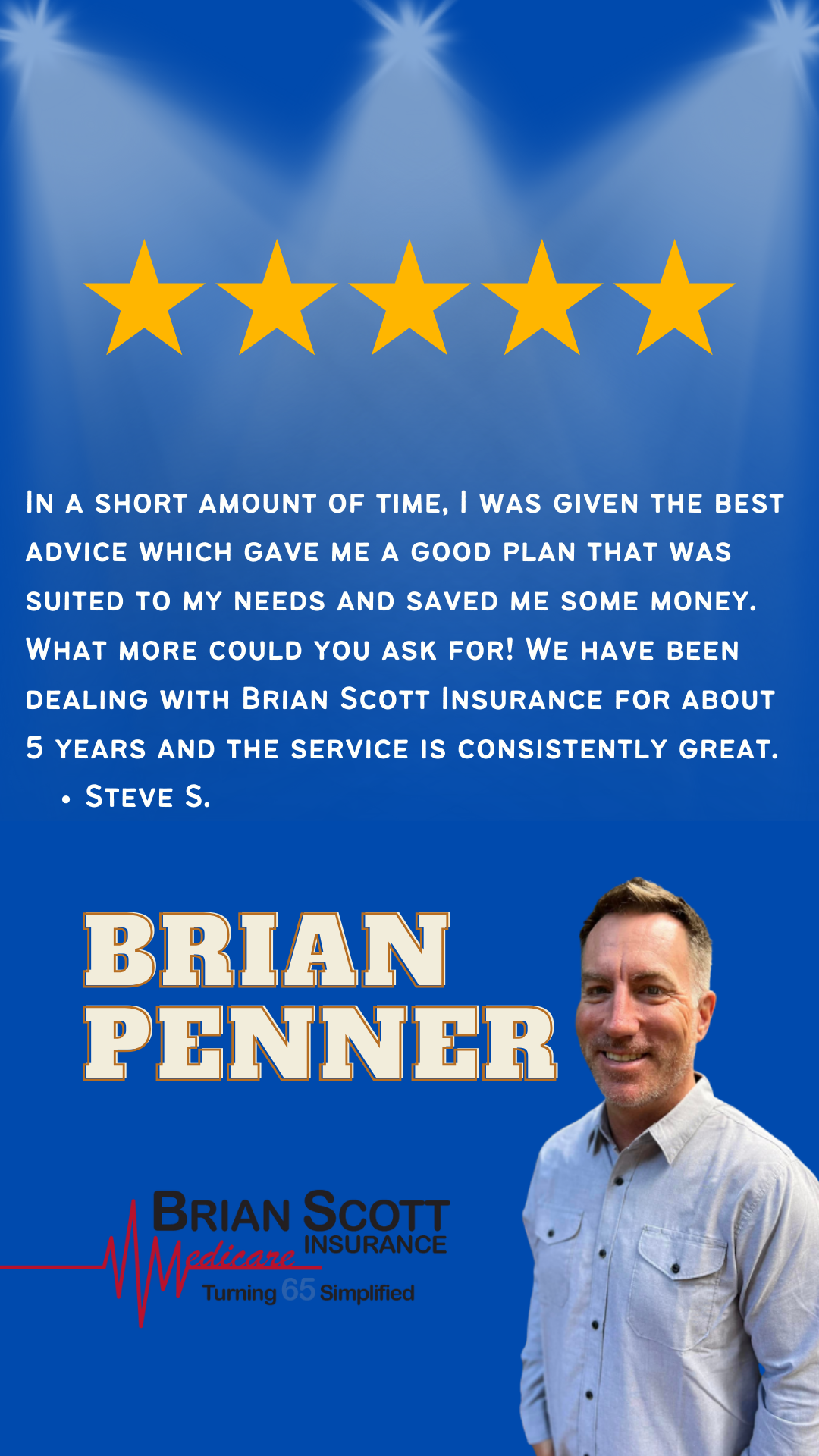 Unmatched Local Expertise
Brian Penner, boasting over 87 five-star reviews, stands out as a beacon of reliability and personalized service in the realm of Medicare insurance. Choosing an agent like Brian means you're not just another number. You're an individual with specific medical, day-to-day, and financial considerations. Brian's commitment to understanding these unique aspects of your life ensures you receive guidance tailored to your specific needs.
The Balance Between Personalized Care and Diverse Options
In an era where some agents exclusively push Medicare Advantage plans or Medicare Supplements, Brian's approach is refreshingly balanced. He understands that everyone's health care needs, lifestyle requirements, and financial situations are diverse. This comprehensive understanding allows him to navigate between different plans, ensuring you get a solution that aligns with your personal circumstances.
Year After Year Consistency
One of the most significant advantages of working with Brian Penner is the consistency of service. Medicare needs can change year after year, and having a dedicated agent who understands your history and future needs is invaluable. Brian's commitment to serving his clients over the long term means he's there for you, adapting and responding to your evolving needs.
Beyond the Sales Pitch: Understanding Your Needs
While TV ads and online personalities might offer appealing pitches, they often lack the personalized understanding that a local agent like Brian can provide. Your health isn't a one-size-fits-all situation. Brian Penner recognizes this and works diligently to ensure that your Medicare plan is as individual as you are.
Easy Access and Convenience
Understanding the busy lives of his clients, Brian offers flexible contact options. You can reach him at 435-260-5156 for a more personal touch, or if you prefer the convenience of digital scheduling, booking an appointment online is just a few clicks away.
Custom HTML/CSS/JAVASCRIPT
Conclusion
In conclusion, when it comes to Medicare insurance, the truth indeed lies somewhere in between the flashy TV ads and the generic online advice. It's in the personalized, attentive, and expert service provided by local agents like Brian Penner. With Brian, you're not just choosing a Medicare plan; you're choosing a partner who will understand and cater to your evolving needs year after year. Contact him today and experience the difference a dedicated local expert can make in navigating your Medicare choices. Browse new 2024 Medicare insurance plans here.